1931
From Heyuri Historical Society
Jump to navigation
Jump to search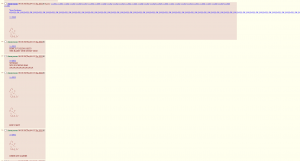 1931 is a certified golden age Heyuri meme. It is based on a user who achieved one of Heyuri's rarest fortunes, and the wave of spam that followed. Sadly—though perhaps for the best—the thread in which this originally occurred was not archived; all that remains is a screencap of the initial fortune post, and an archive of another thread from around the same time in which the spam was referenced.
Upon achieving the elusive fortune for the first time in Heyuri's history (though this would not be the only time), the winner of the fortune immediately chose to gloat and go on a spamming spree in that thread and others, where he repeated something along the lines of the following:
"ANON1931 IS THE KING OF /B/, YOU MAD NEWFAG! YOU MAD NIGGER!"
—Anonymous after getting the rarest fortune; a line he would repost at least a bajillion times.
The exact wording and formatting of the phrase that the self-proclaimed king of /b/ spammed /b/ with has unfotunately been lost to time (likely lost during TEH CRASH). However, through advancements in science and teh learnings—plus some Heyuri oldbies vaguely remembering it—it has been carefully reconstructed above.